Prince George Studio Fair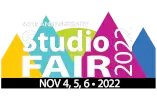 Northern BC's finest Professional Artisan Fair with over 200 local, provincial and national artisans.
BC's Annual Studio Fair Arts Festival in the vibrant city of Prince George, BC! Featuring the finest Arts and Crafts the region has to offer. Vendors offering an incredible assortment of quality Canadian handmade goods to choose from including the best in gourmet spirits, tableware, pottery, textiles, glassware, metalwork, art, and much more.  You are sure to be delighted to witness true artisan quality coupled with one-of-a-kind items, lots of unique activities, and tons of fun for the entire family.